Do you know 4 out of 5 dogs suffering from oral diseases by the age of 3 It's time to improve your dog's oral health with the 2-in-1 Toothbrush Chew Toy!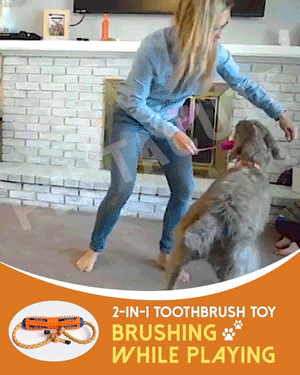 Cleaning your pup's teeth used to be time-consuming and stressful, but ours can offer you a 360 deep teeth cleaning without any efforts!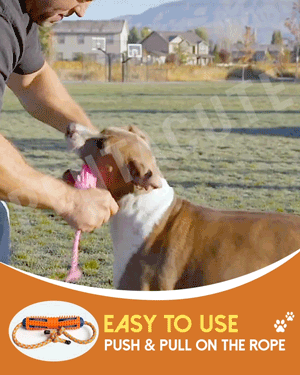 With deep grooves and bristles, it can reach every tooth surface and even hard-to-reach molars to remove plaque and tartar. While the soft nubs on the cylinder can gently massage your dog's gums and tongue and remove stubborn grime.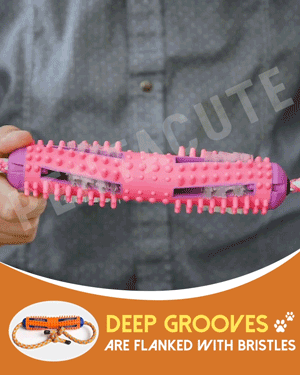 It comes with a meat-like aroma letting dogs clean their teeth based on instincts! In addition to being fun, you do not need to grab your dog's snout, head, or lips to use the toothbrush. Just enjoy the game of fetch while taking care of their oral health with your best pals!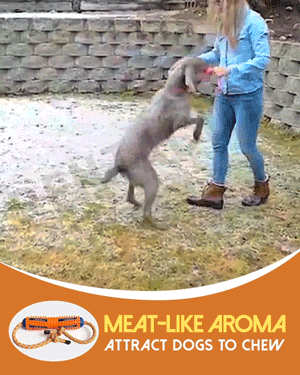 FEATURES
360 Thorough Teeth Cleaning. Deep grooves are flanked with bristles reaching every tooth surface and crevice to remove plague and hard-to-reach tartars down to the gumline. For even better cleaning, you can insert toothpaste alongside grooves to prevent bacteria and plaque growth.
Doggie tongue scrubbers. Think twice about your dog's tongue! Do you know the fact that there are more than 600 types of bacteria in the dog's oral cavity area That's why you need the center tongue scrubber to clean your pup's tongue thoroughly!
Gum Massagers. As your dog bites down on the sturdy cylinder, the soft nubs gently massage your dog's gums and remove gunk and grime.
Prevent diseases and bad breath. Brushing your dog's teeth regularly can protect him from inflammations, cavity ulcers, endocarditis, heart disease, arthritis, and even death triggered by severe bacteria growth.
Pet-safe Materials.Made from 100% natural and durable rubber which DO NOT contain any petroleum, heavy metals, and cancer triggering chemicals.
Meat-like aroma to attract your dogs to

clean their teeth while chewing the toy spontaneously

!
Brushing while playing. The reflective ropes help your dog to

spot and retrieve the toothbrush easily

. Let's turn a game of fetch into daily brushing!
Easy to clean. Simply rinse under the sink while you tug on the rope. We recommend washing the toothbrush before and after chewing.
SPECIFICATIONS
Suitable for all breeds and sizes of dogs
Long life span for extreme chewers
How to use: just push and pull on the rope
PACKAGE INCLUDES
1PCS x 2-in-1 Toothbrush Chew Toy for Dogs