Garlic Press - Garlic Crusher - Best Garlic Press
Grab your Discounted Garlic Press - Garlic Crusher - Best Garlic Press while the store LAUNCH DISCOUNT is on. Once we reach 200-unit sales, we will be increasing the price back up to The Normal Price. This is absolutely a great gift!
 ORDER NOW because these are FLYING off shelves! Limit to 4 per customer max!
The Garlic Press is the perfect tool for mincing garlic, for incredible flavor in every dish you prepare!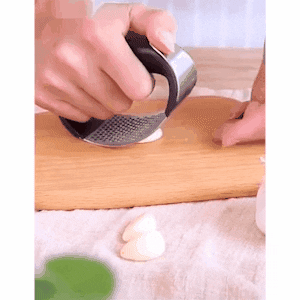 This innovative, garlic press is easier and more convenient to use than other more traditional presses. In fact, this handheld garlic presser provides you with a more secure grip and better leverage for an easier, more comfortable hold. The ergonomic design uses the natural motion of your hand to mince the garlic and the press moves easily, using the weight of your own body. It's ideal for people who have problems using conventional presses. 
The garlic isn't merely crushed, but micro-cut, which helps to preserve the aromatic oils of the garlic! 
Dishwasher Safe