MAKE YOUR TRAVEL RELAXED AND MORE COMFORTABLE WITH AMAZING AIR QUALITY!!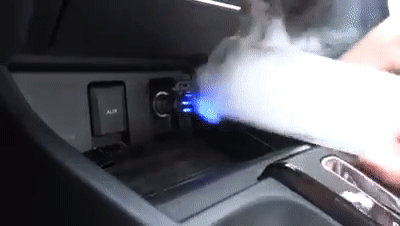 Features:
REMOVE UNWANTED ODOR

 

– Efficiently deodorize smoke, pet, mold, food, human odor, and more. Eliminates your everyday odor and kills bacteria, and viruses by generating SAFE levels of ozone.
PURIFIES and IONIZE

 

– Millions of negative ions from the  Filter attach themselves to airborne particles of dust, bacteria, dander, cigarette smoke, pet odor, and more eliminating odor and triggers of Allergies.
QUICK CHARGE USB

 

– The purifier expands your device charging capabilities with 2 powerful 2.1 AMP USB ports for quick charging any smartphone, tablet, and other devices.
SLICK FUTURISTIC DESIGN

 

- The glossy stainless steel design with crystal-shaped blue LED adds a modern fashionable look to your car interior while you breathe fresh sterilized air using our car air purifier.
The Best Car Air Purifier absorbs smoke, dust, bacteria and other harmful particles. The Ozone particles then remove cigarette smoke, food smell, and foul odors left behind by pets, sweat, and exhaust.
With a measurable and controllable quantity of negative oxygen ions, this compact unit destroys bad odor effectively getting rid of the smoke smell and other stale odors, neutralizes contaminants like mold, bacteria, and viruses purifying the environment helping you breathe easier.
Specifications:
Material: Aluminum alloy
Net weight: 48 g / 0.1 lb
Size: 3.5 x 3.5 x 10.5 cm / 1.4 x 1.4 x 4.1 in
Package includes:
---